The highway song
(Comme un air d'autoroute )
90'
Director(s) : Franck LEBON
Vincent BURGEVIN
Producer(s) : ASTHARTE
AVALON
Cast : Boris VIGNERON
Maryvette LAIR
Didier BOURDON
Catherine HOSMALIN
Jérôme BRUNO
Jean VOCAT
Patrick DE VALLETTE
Peter has turned the motorway service station where he grew up into one big singing and dancing show, as joyous and eccentric as he is.
Helped by a tribe of whimsical employees, he joyfully resists the assaults of the Degrand Group, an oil company intent on buying up this last service station and becoming the uncontested master of the motorway.
440 000 of viewers and 2,2% of market share
---
Peter a fait de l'aire d'autoroute qui l'a vu grandir un espace de "comédie musicale", joyeux et extravagant, à son image.
Entouré par une tribu d'employés fantasques, il résiste avec optimisme aux assauts de Degrand Groupe, le pétrolier qui ambitionne de devenir le maître incontesté de l'Autoroute en récupérant la dernière aire qui lui échappe encore.
440 000 de téléspectateurs et 2,2% de part de marché
Most Promising Actor Award to Boris Vigneron at La Rochelle Fiction Festival 2012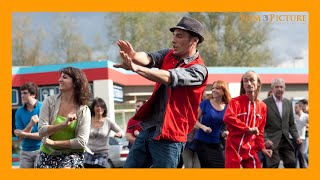 Trailer The Highway Song