Iris Yellow
(Jaune iris )
90'
Director(s) :
Didier BIVEL
Producer(s) : ASTHARTÉ & Cie
Sophie DELOCHE
Cast : Camille PANONACLE
Patrick CHESNAIS
Natacha RÉGNIER
Bruno LOPEZ
For :
France 2, TV5 Monde
A teenager's butchered body is found by the Seine.
Based on 4 novels "Deadly Seasons" by Gilda Piersanti: Red Abattoir, Blue Catacomb, Black Enigma, Yellow Iris"

A teenager's butchered body is found by the Seine. Superintendent Rousseau, haunted by old demons, hands control of the investigation to his deputy, Mariella De Luca, who must also deal with the girl's mother, Katia.

Rousseau is off on his own, investigating the disappearance of his son, who went travelling 5 years ago and never returned.

In a dark and autumnal Paris, characters with their own quests cross each other's paths, while the murderer goes on killing. Will Rousseau find the strength to lead his team?  Can he give Mariella back the self-confidence she needs to see the investigation through?
---
Adapté de la collection « Les saisons meurtrières » de Gilda Piersanti (Rouge Abattoir, Bleu Catacombes, Noire Enigma, Jaune Iris).

Une adolescente, Anna, est retrouvée sur les berges de la Seine, égorgée.

Le commissaire Rousseau, hanté par les démons du passé, délaisse le commandant Mariella De Luca qui se retrouve seule face à cette enquête sensible et à la mère de l'adolescente, Katia. Rousseau a décidé de reprendre en solitaire l'enquête sur la disparition de son fils, parti il y a cinq ans pour un voyage dont il n'est jamais revenu. Dans un Paris automnal et crépusculaire, des personnages se côtoient, hantés par leurs

quêtes respectives, tandis que le meurtrier continu de tuer. Rousseau parviendra-t-il à trouver un second souffle pour diriger à nouveau son équipe et redonner à Mariella toute sa confiance pour venir à bout de cette enquête ?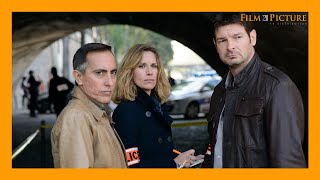 Trailer Iris Yellow