Simenon : Death of an old man
(Simenon : La mort d'Auguste)
90'
Director(s) :
Denis MALLEVAL
Producer(s) :
NEYRAC FILMS
Cast : Jean-Pierre DARROUSSIN
Antoine DULERY
Bruno SOLO
Olivier BRUNAUX
Anne BAUDOUX
Julie JUDD
For :
France 3, RTS, TV5 Monde
One evening, old Auguste drops dead among the customers at his restaurant. He leaves three sons.
One evening, old Auguste drops dead among the customers at his restaurant. He leaves three sons. Of these, Antoine was his partner in the old bistrot in the centre of Paris. The two others are mostly worried about the inheritance, suspecting Antoine of robbing the old man. But Antoine, although he'd been living with his father for a long time, knew nothing about his business affairs. The atmosphere worsens when the wives get involved. And things get really heated because of the third son, Bernard, an aggressive loser who's always short of money. The other brother Ferdinand estimates that Auguste - never a big spender - must have put about a million francs aside. He feels the greed growing inside him, while Antoine will be content with whatever his share may be.But then, the surprise discovery of a key and a bank address leads the three brothers to their father's safe. Their hopes come crashing down when this turns out to contain nothing but a bundle of worthless old shares.
---
Le vieil Auguste, patron d'un restaurant, s'écroule un soir parmi ses clients, frappé à mort. Il a trois fils : avec Antoine, il s'est associé pour gérer son établissement, un ancien bistrot des Halles. Les deux autres fils d'Auguste se préoccupent avant tout de l'héritage. Ils soupçonnent Antoine d'avoir dérobé l'argent. Or, Antoine, qui vit avec le vieil homme depuis des années, n'était pas au courant de ses affaires.

L'atmosphère se dégrade quand les femmes s'en mêlent et le ton monte avec le troisième fils, Bernard, un raté agressif toujours en mal d'argent. Ferdinand évalue à un million de francs les économies qu'Auguste, peu dépensier, a dû mettre de côté, il sent s'éveiller en lui, un héritier avide de pouvoir enfin combler ses besoins. Quant à Antoine, il se montre juste, sa part de bénéfice lui suffit.

La découverte fortuite d'une clé numérotée, puis de l'adresse d'une banque, va permettre aux trois frères l'accès à un coffre qu'avait leur père. Son ouverture les met en présence d'un amas de titres dépourvus de valeur. C'est l'effondrement des espérances.
Trailer Death of an old man (VF)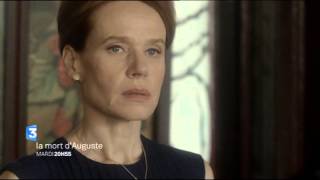 Trailer Death of an old man (VF)