The house of the Rochevilles
(La Maison des Rocheville )
5x90'
Director(s) :
Jacques OTMEZGUINE
Producer(s) :
NELKA FILMS
Cast : Virginie DESARNAUTS
Alexandre BRASSEUR
Jérémie COVILLAULT
Chloé LAMBERT
Aurore CLEMENT
Thomas CHABROL
Souad AMIDOU
Jean Yves BERTELOOT
Carole RICHERT
Bruno LOCHET
The strangest things happen in the Rochevilles' manor house, with its cursed bedroom and walls that speak... In its time it has been a place of protection, condemnation and also punishment.
The ancient home reveals the story of five generations of a French family, from 1893 to 1968 - a family affected by the great upheavals of history and burdened by a secret that is the source of hatred and curses; a family which, like so many others, has had its share of unspoken tenderness and inextinguishable hatred.… Wavering between loyalty and treason, exposed to the torments of a changing society and their own loaded family history, will the Rochevilles manage to hold on to Villeblanche, washing its foundations clean of a sordid past? It will take two world wars, deaths and murders for the secret weighing down on Villeblanche to be finally lifted.
4,4 million viewers viewers – 16,9 % of market share
---
Il se passe des choses étranges dans la Maison des Rocheville, une chambre maudite, des murs qui parlent à leur façon, une demeure qui tour à tour protège, accable ou punit.
C'est cette demeure ancestrale, berceau des Rocheville qui de 1893 à 1968, nous raconte l'histoire d'une famille française sur 5 générations. Une famille ballotée au gré des soubresauts de la grande Histoire, minée par un secret qui n'en finit pas de produire ses haines et ses malédictions, une famille qui comme tant d'autres recèle son lot de tendresses inavouables et de haines inextinguibles…

De solidarité en trahison, exposés aux tourments d'une société en pleine mutation et à ceux d'une histoire familiale chargée, les Rochevilles parviendront-ils à garder Villeblanche et à ancrer leur demeure sur un socle solide, lavé des souillures du passé. Il faudra à cette familles deux guerres mondiales, des naissances, des morts, des assassinats pour lever le secret qui pèse sur Villeblanche.
4,4 millions de téléspectateurs – 16,9 % de PdA
Trailer The House of the Rochevilles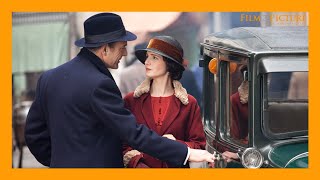 Trailer The House of the Rochevilles